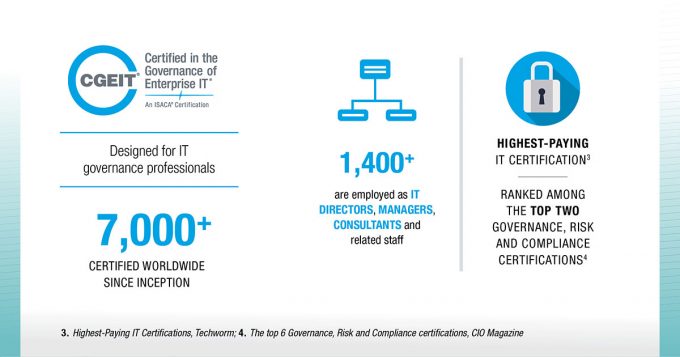 Demonstrate your ability to deliver quality governance
CGEIT recognizes a wide range of professionals for their knowledge and application of enterprise IT governance principles and practices. As a CGEIT certified professional, you demonstrate that you are capable of bringing IT governance into an organization—that you grasp the complex subject holistically, and therefore, enhance value to the enterprise.
CGEIT Certification:
A global and prestigious, lifelong symbol of knowledge and expertise.

Competitive advantage that will distinguish you from your peers.

Higher earnings and greater career growth.

The benefits of becoming part of an elite peer network.

https://www.isaca.org/Certification/Pages/Exam-Registration.aspxThe ability to leverage the tools and resources of a global community of industry experts.
Get started today! Register for an exam.